Rhiannon Ferrari
Owner/Realtor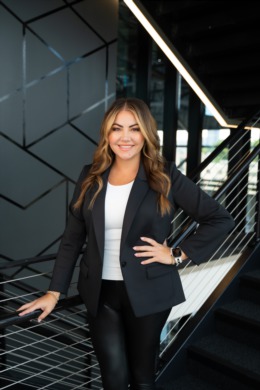 Rhiannon Ferrari lives and breathes Real Estate and has an energy that is contagious!  She has been in the Real Estate business in Central Ohio for 14 years.  She is the Owner and Lead Agent of Ferrari Home Group. Rhiannon enjoys working with both buyers and sellers.  She also uses her experience, expertise, and education daily to oversee her team, ensuring complete satisfaction for all of their valued clients.
Rhiannon is very involved in her industry, and is extremely passionate about Real Estate in Columbus.   She is an innovator and a true visionary.  Ferrari Home Group is consistently ranked a top team in Central Ohio & Top 1% in Ohio.  Rhiannon was voted "Top 10 Realtor under 40" by the Columbus Board of Realtors. Ferrari Home Group was also recognized as  "Top 15 Realtors in Columbus winning at Social Media".  Rhiannon is a Multi-Million Dollar producer,  $25 Million Award recipient, and has received countless sales and community service awards over the years. She is very driven, dedicated & committed to changing the way real estate is done in Central Ohio.  
Rhiannon is proud to call Central Ohio home, and enjoys everything our city has to offer. Rhiannon has a daughter named Harper who is in Sixth Grade. She is a busy, energetic 12 year old who is active in basketball & soccer currently.  When Rhiannon isn't helping clients, she enjoys spending time with her family, traveling, home projects and tailgating for Buckeye games.  She is also a volunteer with Central Ohio Rescue & Restore Coalition which fights human trafficking.  Rhiannon gives back to her community often and has a deep sense of accomplishment helping others achieve the American Dream! Rhiannon is excited about Intel coming to Columbus & the real estate growth it brings to Central Ohio.